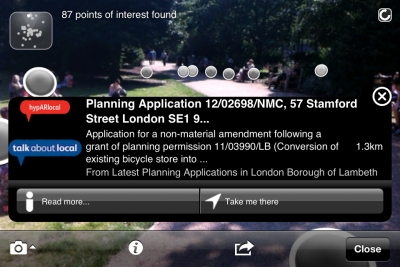 A new pilot project is allowing citizens to see local service information such as planning applications and food hygiene ratings of cafes projected live onto images or videos of their local area using "augmented reality" (AR) software.
Data can be seen overlaid live onto locations by pointing a smartphone or tablet computer with a camera running AR software at a building or area.

The software, HypARlocal Apollo, enabled by technology and software company Layar, is being piloted for free by non-profit body Talk About Local (http://talkaboutlocal.org.uk/), and is initially aimed at publishers of "hyperlocal" community websites.
Residents can then view this information on a mobile device, seeing – for example – graphical circles attached to a building containing information (such as opening times for a museum) when selected.
Speaking to E-Government Bulletin, William Perrin, founder of Talk About Local, said the project – funded by charitable investment bodies Nominet Trust and Nesta – offers a new way for hyperlocal publishers to see their data in relation to its locale.
"We were struck that, at Talk About Local we had thousands of posts on our websites, which is a huge conglomeration of data, but in traditional websites and blogs that information is usually ordered by date or subject area. What augmented reality allows you to do is order that by geography, so you can see things in a geographical way, vividly in the street in front of you. There are very few people in the world doing this, so it's a great opportunity."
To get information into Talk About Local's software, blog publishers simply need to 'geo-tag' the content (a blog post, for example), copy the RSS feed of the blog, and paste the feed into a form on the Talk About Local website, who then project that information into their AR software, which will automatically update the information as the RSS feed updates.
Several councils have also used the software, supplying Talk About Local with place-specific information such as planning application feeds from Lichfield District Council, while some feeds have been taken from publicly accessible local government datastore, Openly Local. Information from these feeds then appears, in the form of a floating bubble, when a HypARlocal-enabled device is pointed at an area – or nearby – which has entered a planning application.
Other data currently used within HypARlocal includes information from ratemyplace.org, a food safety and hygiene rating systems in Staffordshire. Because the information is location-specific, users can only view data when in the relevant area of the UK.
"Councils are the ultimate guardians of local information … and we think there's a lot of potential for local authorities and other local public bodies who hold lots of data about places to use the service to show their data in a new and imaginative way", said Perrin.
Talk About Local are asking for more councils, hyperlocal blogs and other local information channels to use their data in HypARlocal. Visit http://talkaboutlocal.org.uk/ar/ or email hello@talkaboutlocal.org for more information.
NOTE: Article originally published in E-Government Bulletin issue 348.
Click here to visit/return to issue 348 index
Or to register for the free email newsletter E-Government Bulletin and receive more stories like this to your inbox fortnightly, click here
Tags: Augmented Reality, Councils, Hyperlocal websites, Planning feeds, Talk About Local