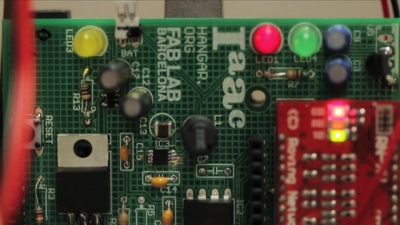 By Tristan Parker
Can our environment be improved by better access to information?
A digital participation project in Barcelona aims to prove it can. The Smart Citizen project (http://smartcitizen.me/en/) begins by measuring and recording environmental data such as air quality and temperature, using low-cost sensors. The data is then uploaded to an online Smart Citizen platform, where it can be analysed and shared with others.

The project is housed in the fabrication laboratory Fab Lab Barcelona (http://fablabbcn.org/), part of a growing global network of Fab Labs – experimental community inventors' workshops where new products can be built by individuals, students and entrepreneurs for any purpose.
"Citizen self-empowerment through technology will play a key role [in] future cities", Tomas Diez Ladera, Director of Fab Lab Barcelona, told E-Government Bulletin. "The do-it-yourself movement, collaborative invention, open hardware and open software are bringing a fascinating set of tools for everyone with a PC and internet connection."
In this way, Ladera says, "the tools which are used to go in and out of the digital world are now the main channels to act in the physical world; low cost and easy-to-use minicomputers with sensors and actuators equipped with internet communication capabilities, sending real-time data of our environment and making it available to others."
As part of the project, "Smart Citizen Kits" are being made available, consisting of an electronic circuit board and microcontroller which holds the data-recording sensors. The boards can be used by anyone, say the Smart Citizen project team, and can be attached almost anywhere, from a home to a public space in a city.
Sensors on the board measure air quality; temperature; sound; humidity; and light levels. The board also contains a solar charger, meaning it can be connected to photovoltaic panels, and a Wi-Fi antenna, allowing users to upload the recorded environmental data in real-time to Smart Citizen's online platform.
The platform will eventually include: both real-time and historical data visualisation; open documentation of the project and processes; online 3D printing; and other tools to raise people's awareness of problems in their city, through video and pictures related to the captured data.
The collaborative elements of the project are aimed at creating a greater sense of interaction and engagement with the environment among communities and neighbourhoods within a city.
"As an open source project, Smart Citizen aims to bring tools for citizen participation [into] the production of the city", says Ladera. "There is a missing connection between people, technology, governance and the ability to participate in significant issues in everyday life."
With the data being shared among any number of people, the hope is that potential solutions to problems within a city, such as pollution and excess traffic, will be developed, along with other innovative ideas for making public spaces and communication as effective as possible.
Continuing the DIY ethos of the project, the Smart Citizen team expect the technology to be improved and advanced by users themselves as the project goes along. For example, new sensors to record other environmental qualities could be added to the basic electronic board.
The Smart Citizen project was launched in July 2012, with the Fab Lab Barcelona team choosing to "crowdfund" the project via Goteo, a social network set up to help raise money and assistance for projects through crowdsourcing. The decision proved a successful one, with more than 13,000 Euros donated to finance the project by the end of the deadline on 20 September 2012. This means the project can be deployed in Barcelona in 2013.
Ultimately, the Smart Citizen team hope that sharing the environmental data of a city with others – be it friends, family, people who live in your city or someone from the other side of the world – will help people to gain a better, more informed picture of their cities.
"By deploying the first phase of the project in Barcelona we want to establish a strong connection with the local community," Ladera says. "The cloud is full of information, tools and people. We want to make that cloud rain in our front yard."
NOTE: Article originally published in E-Government Bulletin issue 349.
Click here to visit/return to issue 349 index
Or to register for the free email newsletter E-Government Bulletin and receive more stories like this to your inbox fortnightly, click here
Tags: Environmental data, Open source, Smart Cities, Smart Citizen