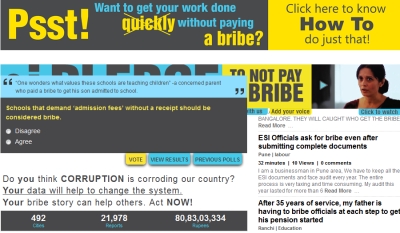 By Vineeta Dixit
The advent of the internet, social media and mobile devices have changed the way citizens can engage with each other and with their governments. Across the world, governments are facing challenges to their legitimacy as citizens express a rising disquiet with corruption and non-responsiveness.
In India, many innovative projects are underway using new technologies to empower citizens and involve them in the process of government.

Over the past few years, for example, mobile devices and internet access have been used to bring more accountability to the Public Distribution System (PDS) which channels food grains at subsidised price to 160 million families in India through around 400,000 Fair Price Shops – the largest distribution network of its kind in the world. However, due to opaqueness in the processes of purchase, storage and distribution of grain and the issuing of ration cards, misuse of resources and bribe-seeking are widespread. A new online system has been effective in tackling this by making public the amounts of grains procured, and how and when it is distributed. Consumers can register online and receive the details by email or SMS.
Another initiative from a Bangalore-based civil society organisation, "ipaidabribe.com", is using the web and social media to expose corruption at all levels of government, particularly bribe-seeking in local government, by inviting people to log when they are forced to pay a bribe. It also provides space to praise honest officials and good government practices.
More recently, last year in August a wave of demand for the passing of anti-corruption laws swept across the country spearheaded online by a grassroots organisation called India against Corruption ( http://www.indiaagainstcorruption.org ). The organisation used social media and mobile technologies to organise mass rallies across the country and persuade the federal government and several state governments to enact laws aimed at rooting out corruption.
Another noteworthy and innovative project is aimed at promoting financial inclusion. At 145 million – almost half its population – India has the highest number of unbanked households in the world. Now, the Government of India, IT companies and civil society organisations have joined forces with village level entrepreneurs who act as Banking Correspondents (BCs) to provide access to financial services including account opening, paying cash in and out, micro-credit and micro-insurance. The BC model uses a combination of ICTs including phones and biometric authentication devices.
Among the many lessons learned from projects such as these is that at grassroots level, interactions in e-society are limited by challenges related to digital literacy and e-accessibility.
In fact, the main threats to interactions in e-society are same as those in non-e-society. These include:
- Limited trust in government. The primary challenge to initiating consultation is trust-building, as government actions are often low on public trust. There may be scepticism towards the reasons why participation is being encouraged, with suspicions of tokenism;
- Limited capacity to engage. To engage meaningfully in public policy debates, it is essential that the participants have knowledge about issues at hand and policymaking processes. However, given the limited availability of knowledge and the occasional requirement for specialised skill sets such as legal knowledge, many people believe their capacity to engage in such processes in limited;
- Lack of commitment. Engagement in policy making processes is a lengthy process and often requires individuals to make long term commitments about time and other resources, which can be difficult;
- Exclusion. Consultative processes may also be seen as a way of legitimising the view of the dominant groups. In addition, the manner of consultation such as its time, location, mechanism of participation and language may also result in exclusion of the most marginalised and vulnerable groups.
The solution to some of these problems lies in creating new opportunities for connecting citizens provided by public kiosks, cyber-cafes and community centres, as well as using interactive TV and other digital platforms including mobile phones.
Some of the other strategies that may be used to mitigate these challenges mentioned in the previous section include:
- Trust-building. The objective of engagement must be made clear from the beginning, and all inputs and feedbacks whether considered and incorporated or not must be shared along with any reasons for non-consideration, to ensure transparency in consultation. It is also essential that all participating government officials should identify clearly who they are, what are their roles and responsibilities in participation;
- Defining degree of engagement. It is critical to manage expectations in a participatory process. As most new media technologies enable 24-7 engagement, it is essential that intervention points and the degree of engagement are defined at the outset, such as the scope of any response to expect, so expectations are set correctly. It is NOT necessary to respond to each and every comment;
- Openness and inclusion. The principal of openness is: be open to comments, whether positive or negative. Inclusion involves speaking the language of the stakeholder – ICTs enable various forms of engagement – text based, voice based, video-based, and they even enable translation, text to voice and voice to text conversion. Use whatever technologies are disposal to encourage inclusion and enable access through multiple devices including mobile phones, contact centres, the internet and so on.
- Integration with existing participation processes. Although ICTs have made inroads into our lives, a large population still have minimal access to ICT, especially those who are vulnerable and marginalised. It is essential therefore that e-participation methods are used alongside offline methods.
- Skill-building. Basic literacy and digital literacy continue to be a challenge with vulnerable and marginalised groups in societies. It is therefore essential that literacy and e-literacy programmes are an essential building block of any e-participation initiative.
Overall therefore, we can see that the challenges for e-participation are similar to those used in traditional methods of interaction: and technology, while adding an additional layer of complexity, is perhaps the least of those challenges.
NOTE: Vineeta Dixit is Principal Consultant, National e-Governance Division, India. This article is edited from a paper presented at a Stockholm conference on e-participation hosted earlier this year by the Swedish Association of Local Authorities and Regions. For more details, a full version of this paper and other contributions see:
http://english.skl.se/activities/dialogue-with-citizens/epartsummit
NOTE: Article originally published in E-Government Bulletin issue 350.
Click here to visit/return to issue 350 index
Or to register for the free email newsletter E-Government Bulletin and receive more stories like this to your inbox fortnightly, click here
Tags: Citizen engagement, e-democracy, India, Online engagement