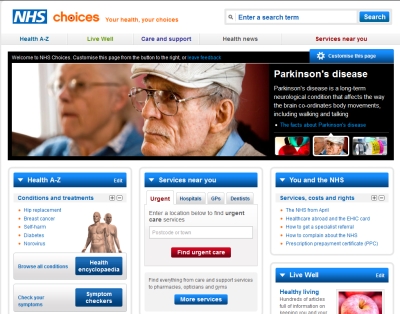 A series of 'digital health hubs' are being set up across the UK to teach digital skills and train people to use the internet to improve their knowledge about health, nutrition, wellness and fitness issues.
The project is the result of a partnership between the Online Centres Foundation, which manages digital inclusion network UK online centres, and NHS England. It will initially fund the establishment of 35 digital health hubs, where people can receive help getting online and undertake training sessions on using online health resources, including the NHS Choices website.
Some 25 of the hubs will be located from April in existing UK online centres, which are based in more than 3,800 public locations including libraries, community centres, schools, churches and pubs.
An additional ten hubs will be set up to contribute to larger NHS digital projects, as well as delivering online healthcare training. These will be located in or nearby venues that already undertake health activity, such as hospitals and GP surgeries. Locations for these hubs will be decided over the coming months and will begin delivering services in July.
The health hubs will provide assistance for those using the internet for the first time, and will then offer training in using NHS Choices. As users become more confident they will be given training in other areas, such as ordering repeat prescriptions.
Users will also be directed to a health resource being developed on the online skills help website, Learn my way ( http://bit.ly/1090QdD ).
"We know that people who are likely to experience health inequalities are also those that are most likely to be offline, so the partnership between the two organisations seemed like something that could have a huge impact on helping people to improve their health and access the services they need in the local community", Helen Milner, Chief Executive of Online Centres Foundation, told E-Government Bulletin.
"By being online, people can find the information they need to do things like lose weight, eat more healthily or exercise more", Milner said. "They can also find out about what's available in their local area, so they can make the right decisions for them. This programme aims to support people to improve their computer and internet skills, which will have a huge knock-on effect on their health and their lives."
NOTE: Article originally published in E-Government Bulletin issue 352.
Click here to visit/return to issue 352 index
Or to register for the free email newsletter E-Government Bulletin and receive more stories like this to your inbox fortnightly, click here
Tags: Digital inclusion, Health hubs, Learn my way, NHS, NHS Choices, Online Centres Foundation, UK Online Centres