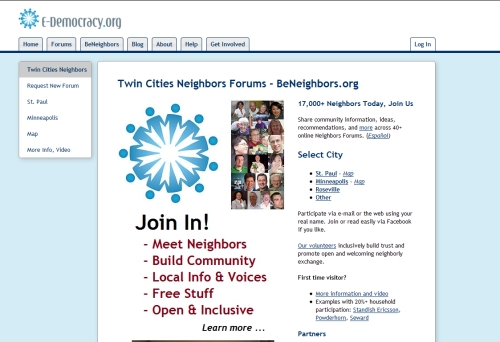 One year ago, E-Government Bulletin published a special report on BeNeighbors.org, an initiative from the pioneering non-profit E-Democracy.org to connect communities in two neighbouring US cities – Minneapolis and St Paul, known as the Twin Cities – using online forums (see E-Gov Bulletin 346: http://bit.ly/XnE5T0). Funded with a 625,000 US Dollar grant, the project had only been running for a few months when we spoke to its leader Steven Clift in March 2012, but had already generated substantial interest.
One year on, and the online forums are still proving invaluable as a voice for individuals and small businesses.
One resident, Julie Daly, volunteered to cook eight lasagnes for a friend's memorial service, before realising she didn't have enough oven space. Within one hour of posting her dilemma on the forum and asking for help, all eight pans were cooking in her neighbours' ovens.
Another forum thread was used to check if anyone had been hurt in a house fire spotted by one resident, while the privatisation of a local recreation centre caused a flurry of activity on the forums, with clarifications of what the plans would mean and information on public meetings to oppose the plans posted by local council members.
We spoke to Clift and project coordinator Jennifer Armstrong to find out how the project is progressing.
E-Government Bulletin: For those new to BeNeighbors, please give us an overview:
Jennifer Armstrong: E-Democracy's Inclusive Community Engagement Online initiative (http://bit.ly/XyJQ2z) seeks to raise diverse community voices and demonstrate that all neighbourhoods, especially lower income, highly diverse, often high immigrant areas, can benefit from local information exchange and conversation despite the digital divide.
Disturbingly, Pew Internet's Government Online study (http://bit.ly/11IwCiQ) found that while 25% of white internet users are considered to be "online government participators" only 14% of Latinos and African-Americans are as well. Between elections, the world is run by those who show up. Having one segment show up at nearly twice the level isn't good for democracy or our communities.
With a focus on low-income, immigrant, and culturally diverse populations, E-Democracy is working to create inclusive online community engagement opportunities to spark discussions, spread community information, and raise voices to take action.
Through a three-year, 625,000 Dollar grant from the Knight Foundation, by 2014 more than 10,000 Saint Paul residents will be connected via the most inclusive local online civic network in the US. Since the February 2012 launch of our BeNeighbors.org campaign, our Saint Paul neighbourhood forums have grown from a starting point of connecting 2,189 neighbours to connecting over 6,000 neighbours with their communities closest to home. Preliminary estimates indicate at least 30% of the memberships are people of colour in the targeted neighbourhoods.
EGB: What have been some significant developments over the past 12 months?
JA: Of greatest significance is our emphasis on forum engagement. Outreach still gets a lot of visibility, partly because the metrics are easy to report. But it's one thing to invite people to the table and another to create a welcoming and inviting place that encourages participation. This is especially true with populations that have different experiences with respect to trust and various cultural views about personal disclosure on the internet, especially with respect to gender difference. The most critical take-away from [some of our prior] work was that we need to be strategic and intentional about the field work we do to support participation. This is where our Inclusive Forum Engagement Leaders will be key.
But to support forum engagement over the long-term, we knew we needed to be looking to volunteers. This year we saw great progress in formalising and expanding our volunteer programme. We developed five key roles to support the efforts of the Forum Manager (our historic single volunteer on each forum) and began actively recruiting earlier this spring. We hosted our first volunteer orientation session in early February and have set a goal to fill each of these roles in our priority Saint Paul Neighbors Forums.
Next up: forum engagement metrics – we developed the capacity to report on posting and author activity in real-time.
EGB: Have there been any setbacks?
JA: Processing paper signups. Paper signups are used to allow immediate membership registration instead of just information sharing and expecting people to signup on their own time. The primary challenge was processing the highest volume of paper signups in our organisational history. This was both a human resource processing challenge and a technology support issue. We updated our uploading technology to streamline the number of files required for processing and we added additional data entry staff capacity. A major push allowed us to catch up on processing June signups by mid-July 2012. For summer 2013 we are developing the capacity for staff to electronically process sign ups directly.
An additional setback is the timeline for uploading the demographic information collected by Summer Outreach staff into our GroupServer technology.
EGB: Have there been any technological developments that have affected BeNeighbors in the past year?
Steven Clift: There are three trends impacting our work.
First, social media exhaustion. People are more and more difficult to connect online as they are bombarded by services and 'friends' with too much time on their hands. Ironically this means our in-person outreach is that much more important for breaking through for community engagement.
Second, Facebook Groups finally work for people. Facebook pages are almost completely useless for community engagement. Groups, however, are email lists in disguise and we see neighbourhoods outside our network popping up on Facebook.
Third, Twitter is hot with teens and [used for] street talk with aliases to avoid the eyes of their parents. The media and politics crowd live in a bubble on Twitter. Professionals like LinkedIn, but with Facebook still not something civil servants like to use at work, 'public life' connections with named people interacting with their government via social media are more difficult.
EGB: You are hiring people to do some door-to-door work for the project. Tell us about their roles:
JA: We are currently in the process of hiring four Inclusive Community Engagement Leaders for the local East African, Latino, Asian, and African American neighbourhoods who will focus on increasing forum engagement in our most highly diverse neighbourhoods through intentional content seeding – sourcing and posting about local events and issues relevant to the cultural communities with significant populations within the forums and promoting community dialogue. In addition, we are gearing up to recruit a four-person Summer Outreach team to continue with outreach and recruitment.
EGB: Are you still finding paper signups and face-to-face registration to be just as crucial as gaining new members through online means?
JA: In the summer of 2012, our part-time, ten-member Summer Outreach team spoke six different languages and signed up 2,316 new members to the Saint Paul Neighbor Forums in-person through door-knocking and across 129 different outreach events. These included:
923 new members by door-knocking in 20 targeted areas;
703 new members at 39 community events;
340 new members at 28 community locations such as libraries;
89 new members at four soccer games;
76 new members at 12 community meetings.
During that same time period we saw an overall increase of 2,746 new memberships; hence, 430 (or 16%) of the total increase stemmed from online registrations. Over the course of the full year, we signed up 3,936 new memberships to the Saint Paul Neighbor Forums. Of these, 2,600 or 66% were the result of paper signups submitted by E-Democracy staff and volunteers.
EGB: How close are you now to the end of the three-year funded project, and what plans do you have for legacy/continuation of BeNeighbors?
JA: We are quickly approaching the halfway mark of the project. As of July 1, we will have 18 months under our belt and 18 months remaining. We are actively seeking funding for project extensions here in the Twin Cities as well as looking for opportunities to collaborate with funding partners in other communities to carry the project forward. In addition, we have developed a more comprehensive volunteer program: http://bit.ly/10KAbni .
More information on BeNeighbors.org and its work can be found at: http://forums.e-democracy.org/ and in a video narrated by Steven Clift taken at a Knight Foundation seminar earlier this year: http://bit.ly/10KIsrn .
NOTE: Article originally published in E-Government Bulletin issue 352.
Click here to visit/return to issue 352 index
Or to register for the free email newsletter E-Government Bulletin and receive more stories like this to your inbox fortnightly, click here
Tags: BeNeighbors.org, Community networking, E-Democracy.org, Minneapolis, Online forums, St Paul, Steven Clift