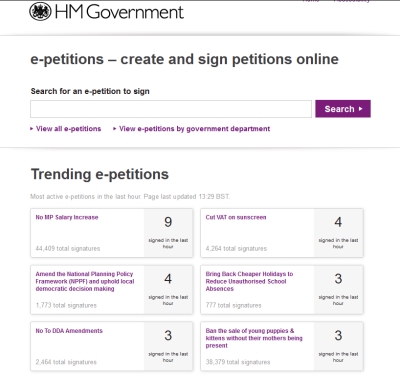 Electronic petitions have ushered in a new age of popularity for citizen petitioning unseen since the early nineteenth century, according to a new book by E-Government Bulletin editor Dan Jellinek.
The historical comparison is made in "People power: a user's guide to democracy in the UK", published this week by Transworld
http://amzn.to/1aXdRMT .
The right for a group of citizens to petition the people in charge directly (at first the monarch, and then Parliament), to right a perceived wrong, dates back to the Middle Ages, the book says. Its use grew until in the early nineteenth century tens of thousands of petitions were presented to Parliament every year.
Through the twentieth century their popularity waned, but in recent years the appearance of electronic petitions – first introduced on the website of the Prime Minister in 2006 – meant anyone could sign one from anywhere at any time of the day or night, and some 26,000 were created in the first year, the book says.
In 2011, e-petitions were switched over to the main central government website ( www.gov.uk/petition-government ) and linked to the business of Parliament. According to official figures, in the first year of the new system some 36,000 petitions were submitted, attracting 6.4 million signatures.
A rule was introduced that if any petition receives more than 100,000 signatures in the time it is open (they can be left open for up to a year), it will be considered for debate in Parliament; and so far, a debate has taken place in each of the dozen or so cases that have reached the threshold, the book finds.
Some have had significant effects: the 2012 release of government papers relating to the 1989 Hillsborough football crowd disaster, for example, is seen by many (including the government) as a response to a large-scale demand made at least partially through an electronic petition. In autumn 2012, the system was enhanced by a government undertaking that any e-petition signed by more than 10,000 people would have a response published, including a statement of the government's policy on the issue.
However, the Westminster system, with its high signature threshold for full debate and lack of any other mechanism for investigating issues raised, remains at the weaker end of what is possible, the book finds. Even within the UK, the Welsh Assembly and Scottish Parliaments both have special petitions committees of elected members who can refer any petition to other committees or carry out their own inquiries.
"People Power" is an examination of every part of the UK's democratic system in the 21st century, from the UK's devolved bodies to the modern monarchy; the freedom of the press; and the rule of law. For more information and to order a copy, see:
http://www.danjellinek.com .
NOTE: Article originally published in E-Government Bulletin issue 353.
Click here to visit/return to issue 353 index
Or to register for the free email newsletter E-Government Bulletin and receive more stories like this to your inbox fortnightly, click here
Tags: Democracy, e-petitions, News, People Power: a user's guide to democracy in the UK, UK Government, Westminster