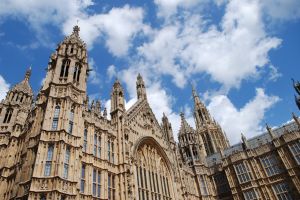 By Dan Jellinek
The right for a group of citizens to petition the people in charge directly (at first the monarch, and then Parliament), to ask them to put right something they feel is wrong, dates back to the Middle Ages. Its use grew until in the early nineteenth century tens of thousands of petitions were presented to Parliament every year.
Through the twentieth century, however, their use in Westminster dropped off, perhaps because there were by now better ways of influencing the people in power, such as publicity campaigns.
Paper petitions do still exist, and are presented to Parliament by MPs on behalf of their constituents. The MP carries the petition up to the Speaker, and is allowed to make a short statement – not a speech – before dropping the petition into a green bag that hangs behind the Speaker's chair. Petitions are listed in Hansard, and a government department responds to each one with an 'observation' – which does not have to include any promise for action.
In recent years, however, a bit of the old magic has returned to the system, with the appearance of electronic petitions. These were first introduced in 2006, on the website of the Prime Minister. They were much easier to collect: anyone could sign one from their own home, mobile phone, or anywhere else they could access the internet, at any time of the day or night. When Downing Street switched on its first 'e-petitions' system, 26,000 were created in the first year.
MPs soon protested, however, that people should be petitioning Parliament as a whole, not just the Prime Minister – as had always been the case with paper petitions. In 2011, e-petitions were duly switched over to the main website for the government ( www.gov.uk/petition-government ) and linked to the business of Parliament.
A rule was introduced that if any petition receives more than 100,000 signatures in the time it is open (they can be left open for up to a year), it will be considered for debate in Parliament; and so far, a debate has taken place in each of the dozen or so cases that have reached the threshold. The numbers of people putting petitions forward have zoomed even higher: in the first year of the new system some 36,000 petitions were submitted, attracting 6.4 million signatures. They make fascinating browsing: from huge mainstream issues such as returning VAT on air-ambulance fuel payments, to petitions with one lonely signature, such as a plea to paint all cars in bright colours to reduce accidents.
Some have had significant effects: the 2012 release of government papers relating to the 1989 Hillsborough football crowd disaster, for example, is seen by many (including the government) as a response to a large-scale demand made at least partially through an electronic petition.
In autumn 2012, the system was enhanced by a government undertaking that any e-petition signed by more than 10,000 people would have a response published, including a statement of the government's policy on the issue, and details of any other relevant parliamentary processes on the go that people might be able to engage with.
However, the Westminster system, with its high signature threshold for full debate and lack of any other mechanism for investigating issues raised, remains at the weaker end of what is possible.
Even within the UK, for example, the Welsh Assembly and Scottish Parliaments both have special petitions committees of elected members who can refer any petition to other committees or carry out their own inquiries.
In Wales, members of the public can present their petitions directly to the Assembly, which has led to various media-friendly events involving horses and fancy dress; the petitions committee is then free to launch inquiries into either the petition or the general topics it raises, take evidence, hold debate, visit sites and recommend action to the Welsh government.
The Scottish Parliament petitions committee has similar powers, inviting petitioners to come and put their points directly, and summoning ministers to respond.
With greater powers come greater effects. Petitions in Westminster might have helped push the government to release the Hillsborough documents and delay an increase in fuel tax, but in Scotland petitions have more regularly led to deeper inquiries being set up in areas as diverse as superbug infections in hospitals, knife crime and child abuse in care institutions, after the voices of people who had suffered or lost relatives were heard repeatedly and directly in the media following petitions committee investigations.
Even more significantly, a Welsh petition needs only ten signatures to be considered, while in Scotland there is no minimum number at all.
"Here, petitions are treated no differently if they have five hundred signatures, or just one," says Anne Peat, clerk to the Scottish Parliament's Public Petitions Committee. "Petitions driven by media campaigns are not always the best ones to look at."
There is no fixed end to the process of consideration by the petitions committee, either, says Peat: it continues, sometimes for years, until the committee is satisfied that all important issues raised have been properly addressed. "We have two petitions about school bus safety and signage that were lodged in 2007 and 2009. The petitions raise a number of issues some of which relate to powers still currently reserved to Westminster. Discussions have taken place about a transfer of functions but these matters take time. The committee continues to press the Scottish Government. In the meantime, the petitions remain open."
The Hansard Society, in a 2012 report 'What next for e-petitions?', suggested the House of Commons could learn from the Scottish and Welsh systems, setting up its own petitions committee with powers to question ministers, invite petitioners and others to public hearings, raise issues with select committees and commission their own inquiries.
At the moment in Westminster there is "no common agreement about the purpose of e-petitions and as a consequence, public and media expectations of the system are confused", the report found. The promising of a debate – or a possible debate – only if 100,000 signatures are received "is a very thin form of public engagement … – and is almost entirely one-directional", it said.
The problem with a single threshold is that petitions can still attract considerable support, but if they are one signature short of the threshold – and are 'only' signed by 99,999 people – there is no guarantee of anything happening at all, a fact which must put many people off starting a petition in the first place.
The report accepted that Westminster would need a different model to Scotland and Wales, since the number of petitions received is so much higher: in one recent year, the Scottish Parliament received 120 petitions and the Welsh Assembly fifty, compared with tens of thousands filed at Westminster.
However, a single high threshold is not the only answer. If a petitions committee were set up, it could consider petitions at a lower threshold of around 10,000 signatures, and some with even lower levels of support could be passed to MPs or offered some quicker feedback, the report suggested.
Ultimately, the key to any successful petition system is to set up a clear process and publicise it properly, says University of Lincoln academic Catherine Bochel.
"It needs to say you can achieve this, this and this – so people are realistic about it. Clearly a petition is not a way for people to get anything they want. But if people feel they have been listened to and treated fairly, and if their issue has been discussed, they are much more likely to accept the outcome.'
NOTE: This feature is based on edited extracts from "People power: a user's guide to democracy in the UK", a new book by E-Government Bulletin editor Dan Jellinek, published by Transworld:
http://amzn.to/1aXdRMT
NOTE: Article originally published in E-Government Bulletin issue 353.
Click here to visit/return to issue 353 index
Or to register for the free email newsletter E-Government Bulletin and receive more stories like this to your inbox fortnightly, click here
Tags: e-petitions, People Power: a user's guide to democracy in the UK, Westminster